AWANA
What is AWANA?

AWANA is a weekly youth discipleship program designed to engage kids in learning and loving God's Word while encouraging them to serve others.


AWANA is an acronym which stands for Approved Workman Are Not Ashamed from 2 Timothy 2:15. AWANA stands as one of the fastest growing youth organizations and provides a local church sponsored program for boys and girls.
Delaware Bible Church offers AWANA for children age 3 – 6 grade.
When does AWANA Begin?
AWANA runs on Wednesday nights from 6:30 – 8:00 p.m. AWANA will not meet on nights on or right before major holidays.
What will my child do in AWANA?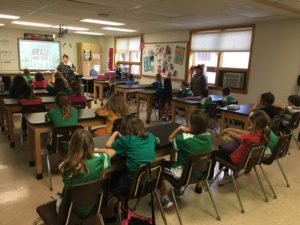 Each week, your child will be greeted by one of our friendly leader who love sharing the love of Jesus with kids. After that, each week is split up into 3 different sections:
Game Time – Your child will stay active enjoying team-building AWANA games as well as other fun, dynamic games.

Lesson Time – Your child will hear a lesson from God's Word from one of our leaders that corresponds to the verse and reading they have been doing during handbook time.

Handbook Time – Your child will have an opportunity to learn and share a memory verse as well as other activities they have been working on with an AWANA leader.
Am I welcome to sit in with my child during AWANA?
Of course! Parents are always welcome to join in during AWANA. A few "invite-a-parent night" events will happen during the course of the AWANA year as well.

Does AWANA cost anything?
Yes. There is a small charge for an AWANA uniform (if your child desires to wear one), an AWANA handbook, and dues for the AWANA program. However, these charges are very minimal. If your child is brand new to AWANA expect to spend a total of $50 or less for everything that they would need for an entire year of AWANA

(uniform, handbook, etc.)

.If cost is an issue AWANA scholarships are available to students in need.
Can I bring my child to AWANA a few times before officially committing?

Absolutely! Just because your child comes to AWANA a few times doesn't mean they are committing to join us for the entire year. They are welcome to join us whenever they can during the year!
I'm afraid my child won't be able to keep up with handbook time…
AWANA has done an excellent job of making their books accessible for kids of all different backgrounds, learning abilities, and knowledge of the Bible. Even if your child gets behind they are encouraged to work at their own pace through their handbook.
Are there other ministries going on during AWANA that I can take part in?
Yes! The Forge (Youth Group for students in 7-12 grade) meets during the same time as AWANA. A young ladies Bible study as well as prayer meeting (beginning at 7 p.m.) also happen on Wednesdays.
Who can I contact with additional questions?
Please feel free to contact our AWANA Commander, Pastor Brad Harris by calling the church office at (740) 369-3557 or by email at bharris@delawarebible.org