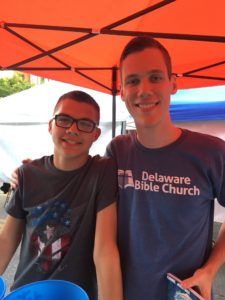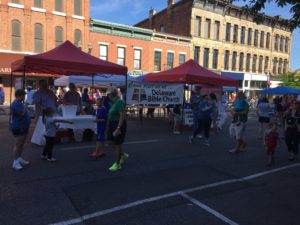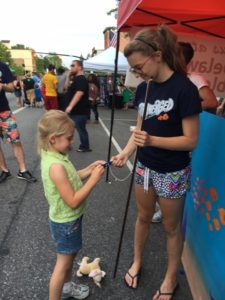 We love being in Delaware and having the opportunity to serve and share the good news of Jesus Christ with our neighbors through local outreach. We seek to be a blessing to our community by hosting or taking part in the following local events:
First Friday
During the summer and early fall months, we participate in Downtown Delaware's First Friday event by hosting a booth each month. Different ministries are highlighted during each First Friday and invitations to special church events are passed out. We also share ways to get involved in our church ministries, along with games for kids to play, passing out candy, bottled water, or other treats as we seek to know our neighbors better.
4th of July Outreach
DBC's parking lot serves as a prime spot in town to watch the local 4th of July Fireworks. Each 4th of July we open our parking lot (free of charge) to the community and invite them to join us as we enjoy the fireworks and share ice cream, or another summer treat, together.
Vacation Bible School
Each summer, one week is dedicated to our largest (and most fun!) outreach event of the year. Children age three to 12 are invited to join us for a fun-filled week full of games, skits, snacks, stories from God's Word, and a carnival for kids and their families at the end of the week.
Trunk-or-Treat
Each year, DBC and DCS partner together to provide a fun and safe trick-or-treating event to families the Wednesday before Beggar's night in Delaware. All community events hosted by DBC, such as Trunk-or-Treat, are free to the public.
Other Various Events
We seek to be a blessing to our local community not only through the local events that we host and participate in but also through any other opportunity that the Lord would provide. Whether it's through a local Bible study, serving as a polling location, or through a pick-up basketball game we are grateful to be a part of our local community and seek to be a blessing to those who call Delaware home.
Benevolence
We seek to follow Jesus' example of providing for the sick, the poor, the destitute, and those who have fallen on hard times through our Benevolence ministry. Whether it is through a small financial gift, counseling, providing a meal or shelter we seek to help those in need in our community.